Picture Perfect
 is a
painting sim
made in
4 days
for the
2021 Scribble Jam
 by a team of
3
.
I was responsible for

game design and art

.
Picture Perfect started as a microgame in a WarioWare-style game for the 2021 Scribble Jam.
Turns out, me and my friend ended up liking the microgame concept a whole lot more.
Gameplay turned out to be surprisingly easy to implement, so we immediately set to work creating paintings!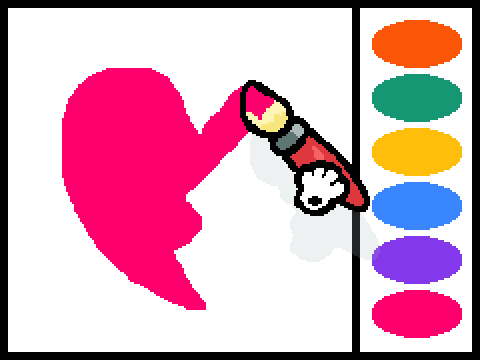 By the end of the jam we had a pretty solid pipeline: my friend made the concepts and I cleaned them up, adding puzzle elements where they fit.
Once a painting is finished, it's time to rate it! Depending on the painting, players can earn one of 3 different types of ribbons for their artistic endeavors.
​​​​​​​
But it wasn't always like that!
Picture Perfect originally featured a more traditional 3-star rating system. But between you and me, I feel like those kind of systems only reward perfection, that if a player doesn't earn the maximum number of
 stars, what's the point
?
Of course, to some players, a big ol' turd ribbon might as well be a 1-star rating. But that's exactly the point: only to some players! Other players might go out of their way to get a poo ribbon on every painting
—​​​​​​​
something a binary rating system could only ever hope to achieve.
And more importantly, there's no humor in it!