Po

k
é
m

on RubyRed
 is a
Po
k
é
mon FireRe

d rom hack

 I'm working on in my spare time

.
The mod currently features
a new region, trainer battles, 
and story

.
This is a
solo dev
project.
My first console was a hand-me-down, an old Game Boy with only one game: Pokémon Blue.17 years later and I'm still a fan.
I've always entertained the idea of making a Pokémon ROM hack—which, by the way, sounds way more malicious than it actually is. It's just modding with extra steps!
Compared to the more centralized modding scene for The Legend of Zelda, Pokémon ROM hacking features a slew of different applications, each one specialized in modifying a specific aspect of the original games. AdvanceMap is your bread and butter, since as the name suggests, it's a map editor.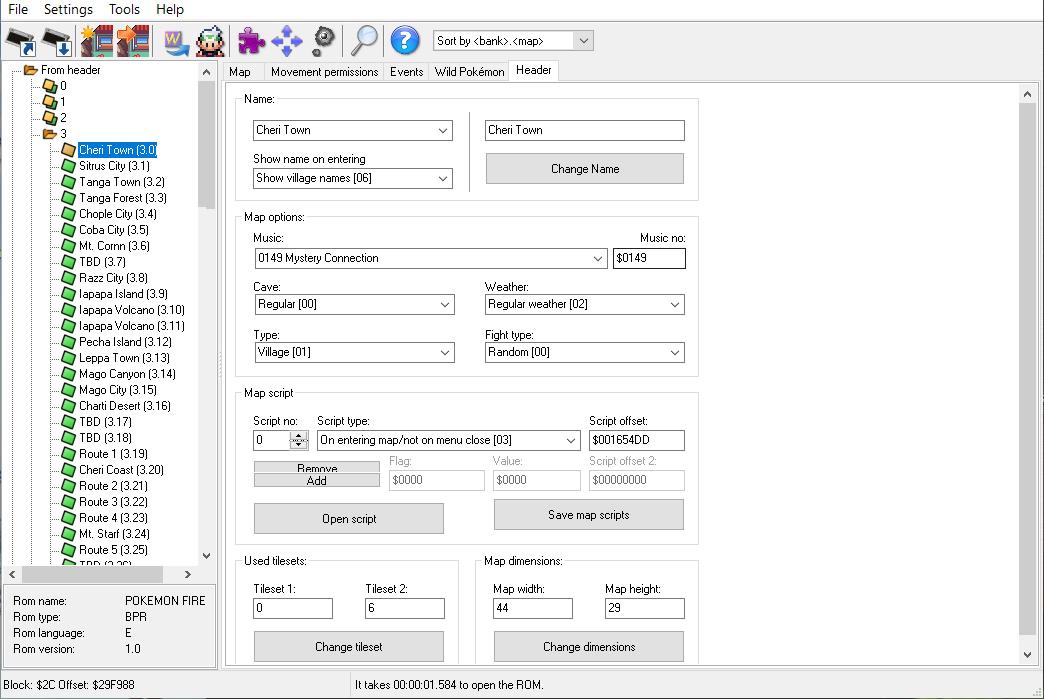 I wasn't expecting it, but so far, making new locations—or maps, as they're called by the community—has been my favorite part of ROM hacking! Especially bigger ones, like the combination forest/mountain range of Tanga Forest.
So I've designed a whole bunch of maps. What's next?
You can see how this all comes together in a time-lapse of Route 1!
But what's a Pokémon game without Pokémon Trainers?
Introducing the Hopeless Trainer Editor, or HTE if you're in a rush. Sprite, name, Pokémon: every aspect of a Trainer is customizable thanks to HTE.
Like my maps, I really want to create a diverse set of Trainers for RubyRed. So instead of being glorified Wild Pokémon battles, Trainers actually have decent strategy! This mostly takes the form of having good type coverage, but many Trainers also have improved AI, meaning they'll actually go for a super effective hit!
Of course, none of this would be possible without the real star of the show: PKSV, the Pokémon Script Viewer.
Written in C, PKSV is a lightweight but powerful tool. Everything from multi-stage, scripted events to a random NPC's line of dialogue is editable. If you're trying to make any real changes to the game, PKSV's the way to do it.
Now, let's not forget about YAPE, Yet Another Pokémon Editor. Fitting name, isn't it?