The Legend of Link

 is a

 

Zelda 1 mod

 that I'm working on every now and then in my spare time

.
The mod currently features

a new overworld, new items, enemies, and sprites

.
This is a
solo dev
project.
I first experienced The Legend of Zelda on the Wii Virtual Console as kid, sparking an interest in classic games that I've still got to this day.
Imagine my surprise when I discovered you could mod it too.

Modding tools for The Legend of Zelda are some of the most robust ones out there, considering they've been around since Windows 95—and it shows.

But much like the original NES title, designing with constraints makes it interesting!

The software I use is ZQuest, the premiere editor for The Legend of Zelda. Not to overhype it, but it's basically the Unity of NES Zelda modding.
After working on screens one at a time in the ZQuest editor, they're stitched together in-game to create the playable world of Hyrule.
If you've taken a peek at the gameplay footage above, these are the screens featured in it!
They were also the only screens that are in a suitable enough state for a dedicated "gameplay" video, since I can be a bit of a perfectionist. Even more so when I don't have a deadline!

Of course, that also means I've left quite the paper trail.
A quick peek into my ever-growing collection of design doodles, featuring the post-it notes I used to block out the first dungeon. I find doodling really helps me hone my vision, especially when it comes to level design.
You might have to zoom in a bit, but see how they compare with the dungeon in-game!
Designing a dunge
on for The Legend of Zelda can be tough because of how limiting the engine is, but I find it refreshing to really have to think about my design affordances—what I can and can't use.
This way of thinking bleeds into the overworld as well, since puzzle solutions in The Legend of Zelda mostly boil down to either owning the guidebook, or having to burn every bush and bomb every wall. I'm trying to avoid that in The Legend of Link, with overworld puzzles being largely contextual, like in my version of the Lost Woods, the Badlands.
Can you figure out the correct path for each screen?
It's a common trend in the modding community that modders will completely overhaul the base game, but I'm approaching The Legend of Link from a different angle. I want my designs to fit in, not stand out. That, if given more development time and more processing power, Nintendo would've beaten me to the punch.
Case in point: items.

I feel like this idea is best exemplified by the Hookshot, an iconic Zelda item that not only creates tons of new design opportunities without breaking the base game, but easily translates into 2D.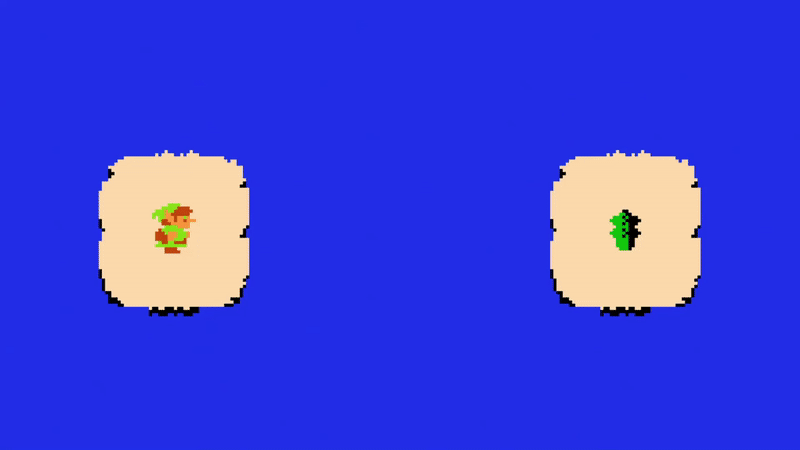 The Magic Wand is another. It already exists in the original game, but new functionality in the form of reflective mirrors opens the door to new puzzle and combat scenarios.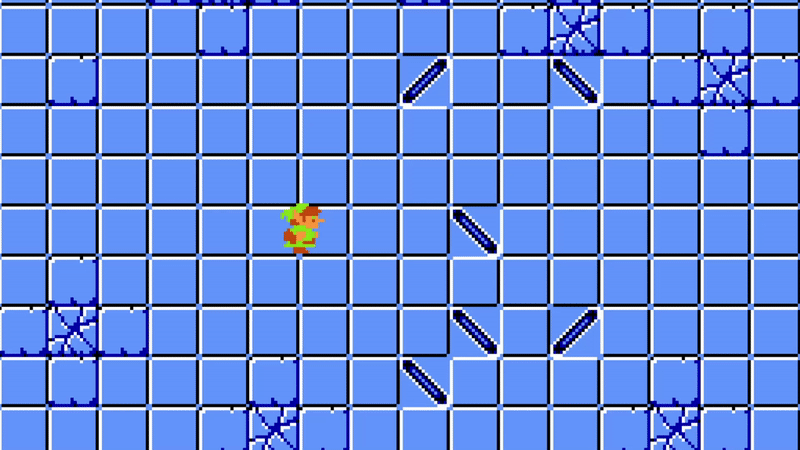 Only making an appearance in 3 official Zelda titles is the criminally underutilized Roc's Feather. Jumping may not seem like a groundbreaking ability, but adding the Y axis to a 2D game can be a slippery slope.
Never underestimate the power of a good jump.