Cutoff
 

is a
puzzle game
 made in
48 hours
for the
2021 Global Game Jam
 by a team of
3
.
After an additional 
3 months
 of development it was licensed to 
Cool Math Games
.
I was responsible for

game design, puzzle design, and art

.
I'm a big sucker for jam themes. They're usually what I draw inspiration from during a jam, but the story for Cutoff goes a bit different. Instead of the theme, I was inspired by the animated reveal video!
I've timestamped it in the video above, but there's a brief, 5-second animation of a flashlight that was my inspiration for Cutoff.
Naturally, I had to start drawing.
Being able to drop/pick up the flashlight was cut early on, since it wouldn't work as a standalone mechanic. To make it worthwhile, it would've required even more systems layered on top of it
—
systems we didn't have the time for.
As the first day went by, it looked like the "goal in the shadows" mechanic wasn't doable either, this time from a code POV.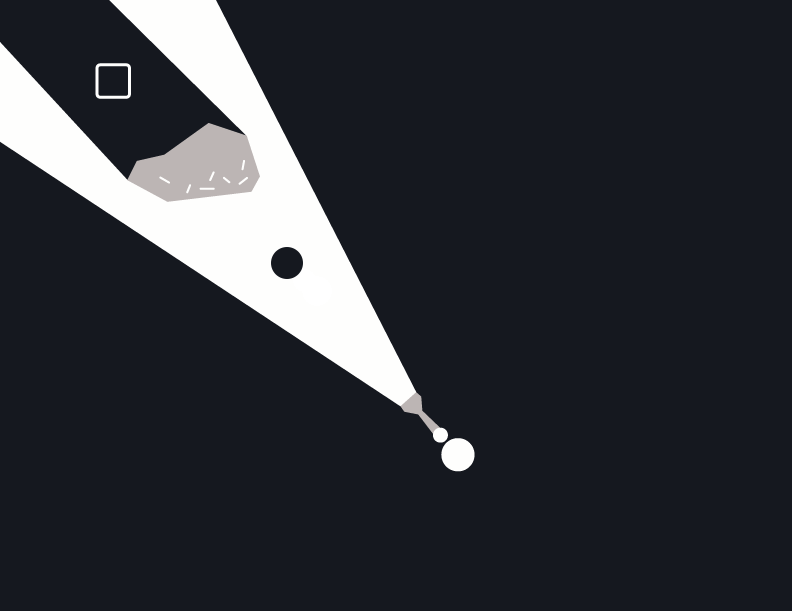 Introducing the "thing that has to be lit" mechanic! Not only was it way easier to program than the previous system, it also made for better puzzles. And once we added a "thing that has to be in the dark," we really hit our stride.
Eventually, levels completed once all the "things" were lit, no goal required.
After the jam was over, my team was contacted by a recruiter from Cool Math Games who was interested in hosting Cutoff on their 
legendary
site,
coolmathgames.com
. Elementary school me was losing his mind.
Naturally, there were two stipulations for the license.
The first was adding more levels! The original jam build only had 5, so I went about designing a dozen more. Here's a comparison for 3 of those level concepts with their current, in-game iteration.
The other stipulation was implementing a level select screen.
My first concept for the level select was way too esoteric from a UX perspective, but on the opposite end of the spectrum was my programmer's suggestion.
I knew there had to be a middle ground between the two, so after a long hard thinking sesh, I realized Roman numerals were the way to go.
We finally had a level select
 that was both readable and minimalist!